Blackhawk CQD Mark 1 Type E Folding Rescue Knife Serrated
SKU: 42536377155777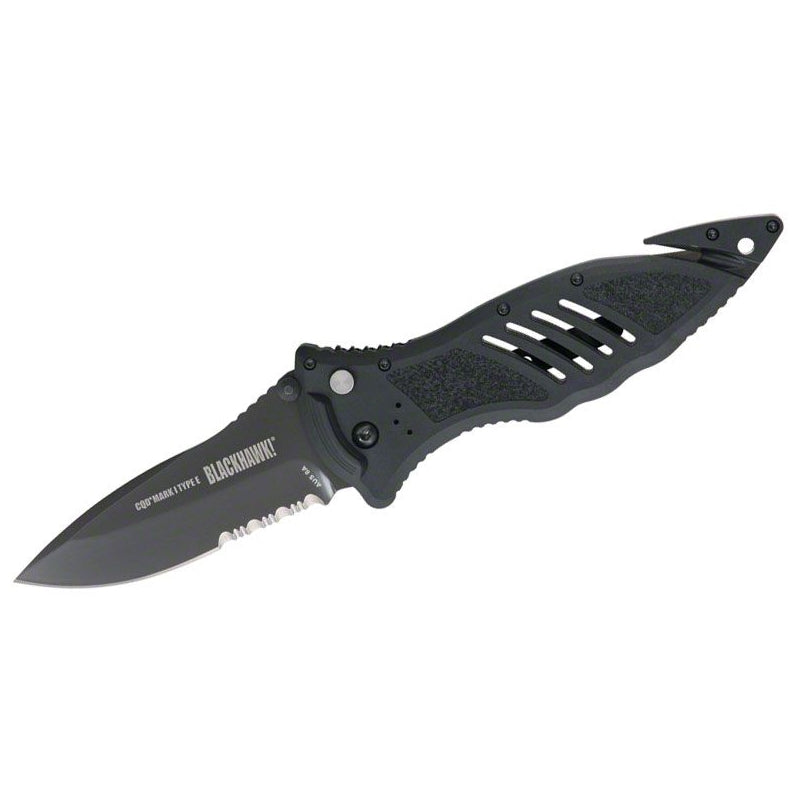 Blackhawk CQD Mark 1 Type E Folding Rescue Knife Serrated - 15M111BK

Blackhawk CQD Mark 1 Type E Folding Rescue Knife Serrated for sale online at cheap discount prices with great deals available on knives and accessories only at our online store TargetSportsUSA.com. Target Sports USA carries the entire line of Benchmade products for sale online with great discount pricing, including this Blackhawk CQD Mark 1 Type E Folding Rescue Knife Serrated .

Blackhawk CQD Mark 1 Type E Folding Rescue Knife Serrated review offers the following information;
Blackhawk Mark 1 Type E CQD Folding Blade Tactical Knife has been designed to be the perfect rescue knife for military and special operations professionals. This Folding Knife by BlackHawk delivers cutting-edge performance with an integrated button-lock locking mechanism, secondary safety, recessed seat belt/cord cutter, and carbide glass breaker. The handle on the Black Hawk CQD Type E Mark-I Folding Knife is made with an injection molded, reinforced nylon material with 420J stainless steel liners that offer an amazing grip for tactical environments. This Black-Hawk Tactical Folder Knife is made with an incredibly durable AUS8A stainless steel blade that has been finished with a black PVD coating that requires less sharpening than inferior blades. The Blackhawk Tactical Mark-1 CQD Folding Type E Knife is built with a pocket clip that lets you choose between right or left hand and tip-up and tip-down carrying methods.
Features of Blackhawk Mark-I Tactical Type E CQD Folding Blade Knife:
Integrated button locking mechanism.
Secondary safety.
Recessed seat-belt/cord cutter.
Carbide glass breaker.